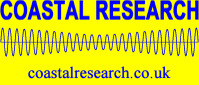 ---
---
For current
e-mail address
postal address
telephone number
please refer to the Home Page
This page was updated on 16th September 2013.
Physical Oceanography
All the marine science activities we have pursued since 1996 have focused upon physical processes in coastal waters, estuaries and rivers. The main areas are tides, tidal streams and their meteorological interactions, geology, sediments, wave action, beach processes, coastal erosion, coastal flooding.
Dr Michael J. Fennessy, Principal Consultant, has retired and now has an advisory role. He will accept some forensic cases and public inquiry consultancy each year if the case is local to South West England and relevant to areas listed above.