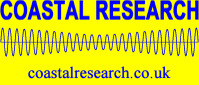 ---
---
For current
e-mail address
postal address
telephone number
please refer to the Home Page
This page was updated on 8th December 2022.
Publications
Tidal atlases published by COASTAL RESEARCH (with year of publication for current issue) include:

Tidal Stream Atlas of the South Devon Coast (1997) 3rd Edition
Tidal Stream Atlas of the South Cornwall Coast (1990) - OUT OF STOCK

Prices (in GB Pounds) including delivery to a UK address:


| | |
| --- | --- |
| Number of Copies | Price |
| 1 | 10.20 |
| 2 | 17.60 |
| 5 | 40.70 |
| 10 | 78.50 |
| 20 | 149.80 |

Only orders for one of the quantities listed in the table above can be processed.

Atlases are also stocked, particularly through summer months, by maritime bookshops and chart agents in SW England.

They also available by mail order from:

Sea Chest Nautical Bookshop

Tel: +44 (0) 1752 222012 or transfer to Sea Chest Website
Exmoor Beneath The Landscape - A Novel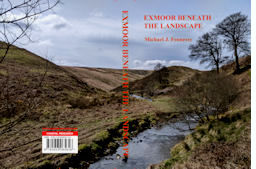 The adventures of a young geologist specialising in the detection of Copper minerals. Employed by an established British company, involved in prospecting for many years, his career moves between international exploration, regional investigation and overseas conferences. Disasters and near disasters impact his life. His focus moves to Exmoor and the identification of rare earth minerals. The ones highly valued for advanced modern technologies. He realises the need to expand his knowledge of these recently discovered elements, particularly how they can be extracted from their source minerals. The future of Britainís advanced industries are heavily dependent on the unusual metals and their amazing properties.
Interaction with all manner of characters leads him to come across badly conceived science projects and constructed secrecy. Trying to juggle his love life with professional responsibilities conjures up a balance between marital stability and exciting opportunities. The story follows a chronology through his mid-twenties. The underground world is hidden from the lives of many people but it provides suitable cover for irregular activities, and very big money.
Author: Michael J. Fennessy
ISBN: 978 0 953 0656 4 6
Hardback, height 236 mm
Price £20.00 including Post & Packing to a UK address.
Bookshops and distributors please enquire by e-mail.
Kayaks on the Colorado - A digital copy of a 20 minute colour film.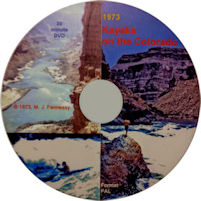 This is a chronological record of the 1973 Grand Canyon Kayak Expedition organised by Mike Clark of Canoeing Magazine and led by Art Vitarelli.
The film has no sound but an index (boat colours etc) of the 17 paddlers is provided on the cover of the DVD case.
DVD format is PAL (principal format in UK and Ireland). There is no Blu-Ray edition.
Price £10.00 including Post & Packing to a UK address.
Overseas purchasers should note the PAL format and send e-mail to enquire the additional cost of overseas postage.

ORDERING INFORMATION
Orders for prices quoted above can only be accepted for delivery to a UK address.
For Orders requiring delivery to an overseas address please send an e-mail, stating required delivery address.
Address for delivery must include a postcode.

Payment by Cheque or Postal Order
Make payable to COASTAL RESEARCH and send to:
Coastal Research
Tamarisks
Waresfoot Drive
CREDITON
EX17 2DG

Payment by Bank Transfer
Send an e-mail to obtain the the Bank Sort Code and Account Number.
When completing the Bank Transfer put your Name as the transaction reference AND quote it in the e-mail.
Send e-mail, when Bank Transfer has been made, with instructions, and clearly state the delivery address and post code.
E-mails should be sent to info@coastalresearch.co.uk