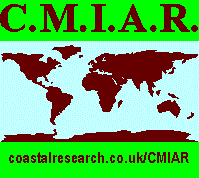 ---
---
For current
e-mail address
postal address
telephone number
please refer to the Home Page
This page was updated on 16th September 2013.
Home Page
CMIAR is an acronym for Clan Memorial Inscription Archive Register.
Four types of Archive are available:


Version 2.3 of CMIAR software is now available to download
More maps, new statistical functions and graphs, and several additional editing features
All CMIAR Archives make use of the unique mapping system so that memorials can be traced.
Some mobile phones (cell phones) are already equipped with GPS to give your location wherever you go. Within a few years most mobile phones will include this technology.
CMIAR is ready to make use of GPS co-ordinates.
---
"Create the ultimate database of monumental inscriptions with CMIAR software" - Family Tree Magazine - September 2006, pages 48-49, www.family-tree.co.uk
---
Digital images of memorials may be included in Archive Records.
A significant aid to family history research and institutional archiving.
CMIAR software may be downloaded without charge from this web site and used to read any Archive File (.mia extension) created by an Archive Editor. Exemplar archive files may also be downloaded without charge.