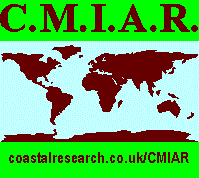 ---
---
For current
e-mail address
postal address
telephone number
please refer to the Home Page
This page was updated on 16th September 2013.
Frequently Asked Questions
---
Users are reminded that numerous explanatory statements are written into the software. Allowing the mouse-pointer to hover over most Descriptions will provide additional information.

When the software is started, the Advice Message Level selector (top right) is set to 'High'. New users may wish to leave this set to 'High' for a while, until they are familiar with the operation of the Browser and Editor functions.
---
What do the filenames mean?
Filenames generated by the CMIAR Application are quasi-unique. They all carry a date as well as identifiers to the Archive. The advantage to Editors is that they can return to an Archive file of a particular date, if data entry situations arise. All Archive Data Files have the extension ".mia". Anyone can rename an Archive Data File, but it must retain the ".mia" extension. The Filename Format is as follows:
Example: AA99YMDD.mia
| | | |
| --- | --- | --- |
| AA | First two meaningful letters in Archive Name | |
| 99 | Last two digits of Archive Number | |
| Y | Last digit of Year | These last 4 characters |
| M | Month Number (1-9, then O=October, N=Nov, D=Dec) | represent the date that |
| DD | Day of Month digits | the file was saved |
---
If I register a clan name, e.g. Smith, do all the Records have to be for Smith?
No, as an Editor you decide who and what you include in your Archive. Most clan names have spelling variations, e.g. Smith, Smythe, Schmidt. Also, you will almost certainly wish to include some memorials for maternal ancestors and their relations. A useful technique with some of these is to record them in the Family Name field with two names, e.g. Robinson nee Smith. In the English language the word nee, or more correctly née, is used to denote a woman's maiden name (her name prior to marriage). On 18th Century memorials it is very common to find the word alias used instead of nee; sometimes abbreviated to als..
---
Can I include more than one church in a Church Archive?
Yes, this is a good idea if you wish to set up an archive for smaller communities, which may have several churches, chapels and graveyards, but the total number of memorials is not huge. In such a case you could name the Church Archive something like the following examples:
Neochester Churches and Chapels
or
Neochester Churches and Graveyards

---